May is Skin Cancer Awareness Month and we would like to bring a product line to your attention. BloqUV is a leader in sun protective apparel, designed to fit the lifestyles for people who live active outdoor lifestyles.
The threat of skin cancer is very real. Here's why:
According to the National Cancer Institute and the Centers for Disease Control and Prevention (CDC):
-Cancer of the skin is the most common of all cancers in the United States.
-Melanoma represents only 4 percent of all skin cancers in the U.S.but accounts for more than 75 percent of all skin cancer deaths.
-Although exposure to the sun's ultraviolet (UV) rays is said to bethe most important factor in the cause of skin cancers, about 70 percent ofAmerican adults do not use sun-protection measures.
The Melanoma International Foundation states that:
-90% or more of melanoma is caused by ultraviolet radiation either from the sun or tanning salons.
-Melanoma is the most common cancer in women ages 25-29 and second only to breast cancer in women ages 30-34.
-Skin cancer is one of the most common and fastest growing forms of cancer in the USA. In fact, 1 in every 5 Americans will develop skin cancer in their lifetime (Skin Cancer Foundation).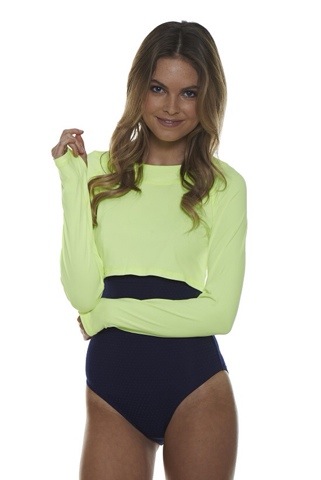 While the numbers are staggering, we don't want you to just hide in your house all day. BloqUV shirts will help get you back outside. BloqUV has evolved into an important everyday brand for tennis, jogging, walking, water aerobics, paddle boarding, skiing, hiking, biking, driving and yoga.
Fusing fashion and function, BloqUV's styles offer flat seams to prevent chafing, moisture wicking to ensure fast drying, and utilitarian pockets to store keys, credit cards, mobile phones and iPods. All fabrics are tested in accordance with the American Association of Textile Chemist and Colorist (AATCC). BloqUV uses soft fabrics with a minimum Ultraviolet Protection Factor (UPF) 50 – blocks 98% of sun's rays. UPF is equivalent in ratings and capabilities to SPF for sunscreens. The typical white cotton shirt provides UPF of 5-10, which is far below the minimum of 15 that dermatologists recommend. No chemicals are added for UV protection.
BloqUV clothing undergoes the most stringent UV Testing. Fabrics undergo 40 home launderings and 100 hours of simulated light. BloqUV provides a minimum UPF 50 = blocking 98% of sun's rays. BloqUV customers have peace of mind that all BloqUV clothing provides. UV protection and blocks 98% of sun's rays (UVA and UVB).
So while summer time and the sun are on the way, be sure to take care of your skin. Stop by any YST location to check out our selection of BloqUV. We have a wide variety of colors in both the crop top and full length shirts for women. The crop tops are great for the hotter months over dresses and tanks before, during or after play. The fabric is very lightweight and breathable so you can stay cool on the court.
Tags: BloqUV
---